1992 Recipient of the Arthur T. Potts Award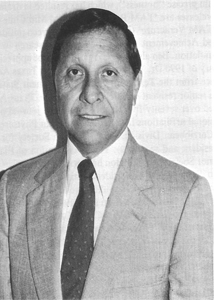 Dr. Benigno 'Ben' Villalon
Benigno 'Ben' Villalon was born in 1936 in Edcouch, Texas and grew up assisting his father on the family farm near Edcouch. Prior to initiating his life long research career and just after graduation from Edcouch-Elsa High School in 1954, Ben served with the Marine Corps until 1958. During his Marine Corps service Ben married the former Rosa Emma Reyna in 1957 and they have five children: Benigno, Suzanne, Deborah, Belda and Daniel. After the Marine Corps Ben became interested in plant virus resistance through breeding when in 1959 he was a Research Technician with the Texas Agricultural Experiment Station in Weslaco, Texas. In 1960, Ben enrolled in Texas A&M University earning a Bachelors of Science in agronomy in 1964, a Masters of Science in vegetable plant breeding in 1965 and a Ph.D. in plant pathology-virology in 1969. During his years of university training Ben assisted in and learned the breeding techniques for sorghum, corn and numerous vegetables.
After graduation from Texas A&M, Dr. Ben Villalon took an assistant professor position with the University of Florida Experiment Station in Homestead, Florida. He was responsible for tomato and strawberry improvement through breeding. Ben's breeding objectives in these two crops were multiple disease resistance with special emphasis given to Verticillium sp. wilt and races I & 2 of Fusarium sp. wilt. In 1970 Dr. Ben Villalon returned to South Texas as a plant breeder with the Texas A&M Experimental Station in Weslaco, TX., filling a newly created research position in plant virology and breeding and began his internationally acclaimed pepper research.
Ben, in addition to his internationally known accomplishments in jalapeno peppers, has conducted research on foliar and fruit pathogens of avocados, viruses and other diseases of sweet sorghum and has developed disease resistant sugarcane varieties. Ben has also conducted research on the biological control of the citrus rust mite. Ben more affectionately known as "Dr. Pepper" has been highly visible with the public and has earned many favorable accolades, bringing great credit to Texas A&M University. His pepper research has been widely reported in the national press including the front page of the Wall Street Journal. In 1972, Ben organized the National Pepper Conference, in 1976 the Texas Pepper Foundation, and he holds membership in the New Mexico Chile Improvement Commission and the California Pepper Improvement Foundation. Ben is the National Pepper Breeding Coordinator via the National Pickle Packers Incorporated and is a member of the Capsicum Crop Advisory Committee, the U.S. National Plant Genetics Resources Board and the United States Department of Agriculture's Plant Genetic and Germplasm Institute. Dr. Villalon's virus resistant pepper releases are widely grown and are considered the standard of the industry. Pepper growers, food processors and seedsmen have reaped tremendous economic benefits from his releases. One particular variety 'TAM Mild jalapeno-l', is recognized for its superior quality to food processors because of its ability to maintain precise "hotness", which has resulted in dramatic sales increases in mexican food pro­ducts. Other superior quality pepper releases are 'TAM Bel-1 & 2', 'TAM Mid Chile-I & 2', 'Hidalgo-Serrano', 'Rio Grande Gold' ( a sweet yellow pepper) and 'TAM Veracruze' (a hot jalapeno). In recognition for his contributions to the pepper in­dustry, Ben received the Distinguished Achievement Award for Pepper Research in 1986 presented by the National Pepper Conference and the Texas Pepper Foundation. Ben also received certificates of appreciation from both the California and New Mexico Pepper foundations. In January of 1990 Dr. Villalon was honored by Texas A&M University, he was awarded the Off-Campus Research Award in Excellence from the Texas Agriculture Experiment Station.
Dr. Villalon, a full Professor and a senior resident research scientist at the Texas A&M University Research and Extension Center in Weslaco, Texas has authored over seventy-five scientific, refereed journal publications related to his pathology and breeding achievements. Ben's professional affiliations include the American Phytological Society with associate membership in the U.S. Southern, Mexican and Carribbean Divisions; the American Society for Horticultural Science; the Rio Grande Valley Horticultural Society (past president and secretary); Texas Association of Plant Pathologists and Nematologists and Gamma Sigma Delta Agricultural Honor Society. Dr. Villalon has served as a member of the Texas A&M University Graduate Faculty and has participated on fifteen different graduate student committees at both the M.S. and Ph.D. levels. In addition to his many professionally related committee efforts Ben has found time to serve on several local civic youth programs. Ben has been a director and coach of the little league baseball program since 1968, the youth football program and a scoutmaster for many years. He was the first President of the Weslaco Boy's Club of America, the first President of the Academic Booster Club for Weslaco Schools, past President of the P.T.A. and serves on various school, hospital and city advisory boards as well as the Rotary Club. Ben was honored by the city of Weslaco, Texas in 1982 for his lifetime community volunteer service with the highly coveted Outstanding Citizen Award presented by the Weslaco, Texas Chamber of Commerce.
his Society honors Dr. Benigno 'Ben' Villalon not only for his internationally acclaimed research program on disease resistance and improved chile pepper quality, but for his contributions of agricultural research which benefit the people of Texas and especially those of the Rio Grande Valley. Also, we honor him for his service to the Rio Grande Valley Horticultural Society and as a role model for both scientific and civic societies. [G.E.L., 1992]