2016 Recipient of the Arthur T. Potts Award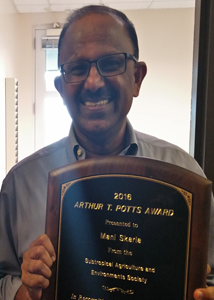 Dr. Mani Skaria
Dr Skaria was born and grew up in Kerala State, India. He graduated with a BS degree in 1972, and an MS degree in 1974, both from the University of Kerala. From 1976 to 1979, he lectured at the University of Jordan. He then came to the US to pursue at PhD degree at Purdue University in Indiana, studying barley yellow dwarf virus; he graduated in 1984. From 1985 to 1988 he worked for the University of Washington and the US Agency for International Development, working on citrus diseases in Jordan. He was then hired as plant pathologist at Texas A&I University (now Texas A&M University-Kingsville) Citrus Center in Weslaco.
He was promoted to associate professor in 1992, granted tenure in 1994, and promoted again to full professor in 1999. During his years at the Citrus Center, he worked on a wide range of citrus disease issues including phytophthora, greasy spot, melanose, various post-harvest diseases, nematodes, and viruses. His identification of Citrus tristeza virus in a nursery led to the establishment of the mandatory budwood certification program for Texas. He was also very active in teaching and guiding graduate students, chairing or co-chairing 17 MS students.
He published over 30 scientific papers during his academic career, and was very active in several professional societies, including the American Phytopathological Society, and especially the Rio Grande Valley Horticultural Society (now SAES), serving as President (2002-03) and Secretary (2002-13).
He developed a technique of microbudding citrus to bring trees into fruit production sooner, allowing higher density planting to maximize returns. In 2013 after 25 years service to the university, he retired from Texas A&M University-Kingsville, and set up his own company, US Citrus in Hargill TX, to produce microbudded trees, especially Persian limes which are in high demand in the US.