2002 Recipiant of the Arthur T. Potts Award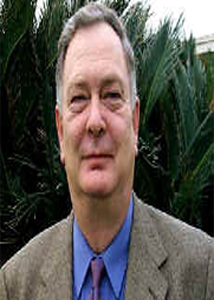 Dr. Marvin Miller
Marvin received his BS in 1967,  MS in 1969, PhD in 1971, then did a postdoc, all at the University of Florida in Gainsville. Then in 1972 he came to the Valley where he has spent his entire career conducting research to benefit the Rio Grande Valley vegetable industry.
Dr. Miller's research program involves etiology, epidemiology, and host-pathogen relationships of diseases for vegetable crops in South Texas and development of methods to control these diseases. Many of his research projects are team efforts including other plant pathologists, breeders, entomologists, and graduate students.  Recent research accomplishments include determining  the cause of a vine decline/rot rot disease complex of cantaloupe, honeydew and watermelon. A unique fungus, Monosporascus cannonballus, was identified as the major causal agent in the complex. Partial host range, distribution growth conditions, pathogenicity of the fungus, diagnostic tools, and disease a suppression with fumigation have been determined. A recently described fungus, Rhizopycnis vagnum, was also determined to contribute to the complex. His research also includes development of  control measures through chemical and resistance/tolerance methods. Other research on cucurbits and onions includes: 1) determining that local isolates of  Didymella bryoniae, casual agent of the gummy stem blight, were resistant to benomyl and development of control methods for this disease. 2)  screening experiment fungicides for  their efficiency to control downy mildew, powdery mildew, gummy stem blight, and purple blotch and 3) providing data for registration of promising fungicides. His work has resulted in numerous research publications as well as substantial benefit to vegetable growers.
In addition to his research program, Marvin provides many other services to the South Texas vegetable industry, to Texas A&M University both at the Research & Extension Center at Weslaco as well as to his department of Plant Pathology on the main campus, and finally to his profession through involvement in professional, scientific and honor societies.
Dr. Marvin Miller has tirelessly dedicated his career to providing solutions and meeting and challenges faced by the vegetable industry, particularly melon and onion growers, in Texas and worldwide. His efforts have contributed significantly to the continued success of the industry.