1988 Recipient of the Arthur T. Potts Award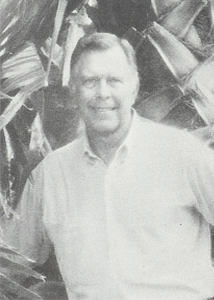 Stanley B. Crockett, Jr.
Brad Crockett was born in Mercedes,Texas, but raised in Harlingen where he graduated from Harlingen High School in 1953. After obtaining his B.S. in Agriculture at Texas A&M University, he spent several years in the U.S. Air Force. After his Air Force Service, Brad joined his father in the citrus nursery and orchard care business. Within a few years, his energy, innovations and good business sense brought recognition and success in an increasing number of horticultural and community endeavors. He is a Valley pioneer in growing container citrus. He has constantly sought and adapted the latest information and techniques to the orchards he tends. His appreciation and awareness of the potential of horticultural plants resulted in his establishment of a successful foliage and ornamental nursery business. Here again, his management and production innovations, coupled with his reputation for fair and honest dealing, resulted in nursery products widely recognized for their quality and value.
His contributions to both the citrus and nursery industries have been outstanding. He has served as president of the Texas Citrus Exchange, Citrus Nurserymen's Association, Texas Gift Package Shippers, Inc., Rio Grande Valley Horticultural Society, and Texas Citrus Mutual, who awarded him their TCM Special Award in 1987. Additionally, he has or is serving on the boards of the Texas Citrus and Vegetable Growers and Shippers Association, The Texas Valley Citrus Committee, Lake Delta Citrus Association, TexaSweet Citrus Advertising, Inc., and The Valley Ornamental Nurserymen's Association. At the time of this writing, he is also chainnan of the Valley Agricultural Research and Development Corporation and the Texas A&I Citrus Center Advisory Committee.
As with most busy men, Brad still finds time for leadership and advisory roles in community and civic activities. He has been president of the Harlingen Rotary Club and Jaycees, who awarded him their Distinguished Service and Young Man of the Year awards. He is a member of the Texas Society of Professional Land Managers and Appraisers, Chairman of the Board of Tropical Savings and Loan and a director of the First Republic Bank of Harlingen. it is, however, not the number of ways, but the manner in which Brad has served – his willingness, his ability to define and solve the problem at hand and to motivate and inspire his colleagues, that has earned the Valley horticultural industry's esteem and gratitude.
In the personal vein, Brad lives with his wife, Nancy, near the original Crockett homestead outside Harlingen. His two daughters, Mynan and Julie are working in Dallas; his youngest son, Allan will graduate from Texas A&M this year; and Stanley, III, is following the family tradition as an associate with his father in the nursery and citrus business.
To close on a not insignificant historical note, exactly 24 years ago, the Society gave Stanley B. Crockett, Brad's father, the A.T. Potts Award, making them the first father-son pair to be so honored.