Arthur T. Potts Award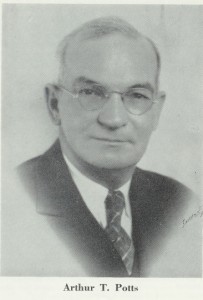 Nominations 
When the Rio Grande Valley Horticultural Society decided to establish an award recognizing outstanding horticultural work in this area there was little doubt as to who would be the first recipient. Arthur T. Potts of Harlingen was chosen and his name has been given to the award.
Arthur T. Potts worked in the field of citri culture in Texas long before the establishment of a commercial citrus industry. Born in Weatherford, Texas, he graduated from Texas A and M College with a Bachelor of Science degree in horticulture and went to the Beeville Experiment Station as superintendent in the early years of this century. At the Beeville station during the period 1909 – 1912 he determined that satsumas and kumquats could be grown in South Texas. Citrus in that area was grown on trifoliata rootstock which is susceptible to citrus canker. Citrus canker and freezes finally eliminated most of the citrus trees along the Gulf Coast. The citrus industry then moved southward and by 1921 most of the citrus trees in the state were located in the Lower Rio Grande Valley.
Meanwhile Potts joined the Extension Service and traveled over the state locating experiment substations including the one at Weslaco. By 1924 Potts had received master's degrees in horticulture from the University of California and Texas A and M. At that time he moved to the Lower Rio Grande Valley to become a partner with Sam Baker in the Baker-Potts Nursery Co. He later bought out his partner's share in the business and has been closely identified with the development of the citrus industry in the Valley ever since. He also helped in the development of several large citrus tracts including those at Bayview, Progreso and Adams Gardens. Mr. Potts was instrumental in formation of the Texas Citrus Exchange and served in may civic capacities.
The Arthur T. Potts Award was established by the Rio Grande Valley Horticultural Society in 1955, and is given annually in recognition of outstanding service to the horticultural industry of South Texas. Contributions may be in the area of research, education, leadership or service which enhance horticultural production. Nominations may be made by submitting a letter of recommendation describing the individual's contributions to the Board of Directors of the Rio Grande Valley Horticultural Society. The award is presented at the Annual Institute held in January each year.