1990 Recipient of the Arthur T. Potts Award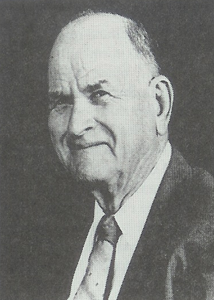 A. V. 'Pete' Peterson
Pete Peterson was born in 1915 and grew up on a small cotton farm outside Olivia, Texas. He attended Texas A&M University where he received his B.S. degree in Agricultural Education in 1939. After graduation, he accepted a position as a teacher on the faculty of Pharr High School in the Lower Rio Grande Valley of Texas. There he met a history teacher and a business teacher who profoundly influenced his life and career. The history teacher was the former Dorothy Rusk, who married Pete in 1940; and this year they will celebrate their 50th wedding anniversary. The business teacher was Edwin LaGrange, who together with Mr. Peterson laid the foundation for one of the most innovative and respected agribusinesses in the U.S.; this business partnership began at the outbreak of World War II, when both Ed and Pete left Pharr High School to work as firefighters on Moore Air Base, near Mission, Texas. They worked opposite shifts and on their days off began growing tomatoes. Their efforts were temporarily interrupted toward the end of the War while Pete served in the Merchant Marines.
After his return in 1946, Pete and Ed obtained and cleared 200 acres near Rio Grande City, and successfully grew peppers that first year. As the enterprise grew, more partners and more land were acquired, and to date Starr Produce includes over 8,500 acres and is listed as one of the top 100 growers in the U.S. Mr. Peterson is currently Chairman Emeritus of Starr Produce Company headquartered in Rio Grande City, Texas. Dorothy and Pete had three sons who now work for Starr Produce. The eldest son, Bob, serves as President of the company while James manages the Starrco farm and David oversees the Special Projects Division. Also working with Starr Produce are two sons of Edwin and Francis LaGrange. Ross LaGrange manages the SunTex Farm, while Charles manages the Sales Division of Starr Produce.
In the 1950's the Progressive Farmer magazine honored the Petersons and LaGranges as "Progressive Farm Families." In 1980, Mr. Peterson received the Texas Vegetable Association's Award of merit and has been honored a number of times since. Pete is an active member of the Farm Bureau, the Chamber of Commerce, and is a Charter member of the Starr County Fair Association. Mr. Peterson has also served on the Tomato Marketing Order and helped promote the establishment of the South Texas Lettuce, Onion and Melon Committees, which help market Valley produce and provide research grants.
Mr. Peterson has always been an ardent supporter of agricultural research and extension activities throughout the region. He was a founding member of the Valley Agricultural Research and Development Corporation, which helped procure research land for both the Texas Agricultural Experiment Station and Agricultural Research Service of the USDA. He has served on the Vegetable Committee for the Starr County Extension Program, and for 23 years on the Vegetable Advisory Committee of the Texas A&M Experiment Station. He has been an active collaborator in the research programs of faculty members such as Ed Cox, Paul Leeper, Leonard Pike, Mayo Correa, and Ben Villalon. Most of the new and innovative technologies delivered to South Texas are often tested on Starr Produce Farms. Many of the new cultivars including onion, melons, lettuce, tomatoes and peppers are commonly tested at Starr Produce before public release. He has also provided strong support and encouragement to new researchers and extension personnel here in the Rio Grande Valley.
Besides the contribution to Texas Agriculture, Pete Peterson has contributed greatly to economic development of Starr County. Starr Produce is the single largest private employer in Starr County, and during the 1988 production season they employed 2,000 people.
This society honors Mr. Peterson not only for his service and leadership role in Texas Agriculture, but for a philosophy of progressive and innovative thinking that benefits everyone. [BTS, RMP, GEL; 1989]