2009 Recipient of the Arthur T. Potts Award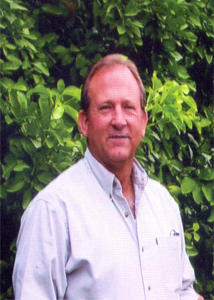 Dennis Holbrook
Dennis Holbrook grew up in a citrus and row crop farming family. After returning from Texas A & I University, and again joining the family business, he purchased the family citrus operation from his father in 1977. He soon became disillusioned with and concerned about conventional farming. Thus, South Tex Organics was established in 1984.

Dennis decided farming organically was nature's way arid the best way to grow the most nutritious and best tasting citrus. He felt a commitment to provide the consuming public with an option to purchase citrus grown naturally without the use of toxic chemicals. Converting from decades of chemical assisted farming to organic growing methods was a daunting but determined task. At that earlier time, there was no one to turn to for advice or support. Agriculture counterparts assuredly proclaimed it could not be done. Dennis persevered in spite of the obstacles and lack of organic growing information. It took several years of growing cover crops and applying compost before seeing the evidence of renewed life in the soil. Through trials and tests, he began to gain an understanding of nature, how it provides benefits, and to learn how to grow in harmony with nature.

Dennis participated in a study with a Texas A & M graduate student in developing habitat areas around the fields to attract and harbor beneficial insects, a practice which has been adopted in many growing regions throughout the world, and one he continues today. It is his firm belief that sensible and natural cultural practices provide a healthy foundation to produce a healthy crop. All of the products grown by South Tex Organics, LC are United States Department of Agriculture (USDA) organic certified by the Texas Department of Agriculture. South Tex Organics began with 60 acres. Since then, Dennis has become the largest organic citrus and vegetable grower in Texas, with over 500 certified acres in his operation. His product line currently consists of the famous Texas Rio Star grapefruit, several varieties of oranges, Meyer lemons, red and yellow onions and watermelons. He has also tested the organic produce market by growing broccoli, carrots, cucumbers, red and white potatoes, honeydew, green beans, tomatoes, and lettuce greens.

From the beginning, Dennis has taken an active part in the growth of the organic industry. He is a member of the Organic Trade Association (OTA). He is a founding member of the Texas Organic Growers Association (TOGA) serving as President and Chairman of the Board. Dennis was appointed by Agriculture Commissioner Jim Hightower in 1989 to serve on the first Texas Department of Agriculture's (TDA) Organic Certification Review & Standards Advisory Committee. Dennis was appointed in 2002 by the US Secretary of Agriculture, Ann Veneman, to serve as a grower representative on the National Organic Standards Board (NOSB). In 2008, Texas Agriculture Commissioner Todd Staples appointed Dennis to the newly formed Texas Organic Agriculture Industry Advisory Board.

Dennis also continues to serve on several conventional agriculture boards in order to uphold organic interests. He recently fulfilled his term as chairman of Texas Citrus Mutual and continues to serve on the board. He is also a board member of TexaSweet, the promotional arm of the Texas citrus industry, and a board member of the Texas Produce Association. He also serves on the advisory board for the Texas A & M University-Kingsville Citrus Center.

Through Dennis's perseverance, South Tex Organics, LC has come a long way since sending its first shipment of organic citrus to Whole Foods in Austin, Texas in the back of a cattle trailer. Marketing organic Texas citrus also proved to be a challenge for Dennis. It was a new concept met with produce buyers' skepticism. But through his marketing skills and superb organic product, Dennis now distributes truckloads throughout the nation and exports to Canada. He has also exported to Japan and Europe, with continued interests from international buyers to resume those export efforts.

Dennis Holbrook founded South Tex Organics 25 years ago with a passionate commitment to grow and make available the best organic citrus, and to provide safer fanning environments and products. He has succeeded and is now recognized as a pioneer and leader in organic growing methods.

Dennis is married with four grown, married children. He and his wife, Lynda, reside in Mission, Texas.