1989 Recipient of the Arthur T. Potts Award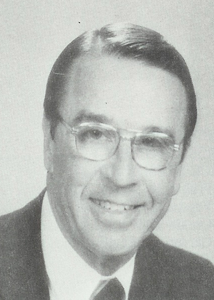 Wayne Showers
Wayne Showers, President of Griffin & Brand of McAIlen, Inc., was born in Vernon, Texas. He graduated from Mission High School in 1949 and obtained B.Sc. degrees in Horticulture in 1953 and in Entomology in 1958, and a M.Sc. degree in Entomology in 1958 from Texas A&M University. Mr. Showers served with the Armed Services from 1954 to 1956. His wife, Reba, is from College Station and they have two daughters, Gay Showers Hargis and Brenda Showers.
Mr. Showers is a noted alumnus and avid supporter of education and agricultural research. He has devoted many hours of his personal time in consultation to help develop research and education priorities and opportunities in the state of Texas. His efforts devoted to developing education and research programs in the Horticultural sciences have resulted in tremendous increases in awareness and support of agriculture in south Texas. He serves as a member of the Board of Regents, Texas A&M University System. He previously served as a Vice President of Public Relations with the Texas A&M Association of Former Students (1981-1983); Vice Chairman for Agriculture for the Target 2000 Project (Texas A&M Univ.); as a member of the Development Council, College of Business Administration, Texas A&M Univ.; Board Member of the Aggie Club, College Station; and a past member of the Advisory Committee of Texas A&M Research and Extension Service,
Mr. Showers has been very active in the development of the agricultural industry of south Texas. He was Chairman and Co-founder of the Texas Citrus and Vegetable Insurance Exchange (1978) and served as President of the Texas Citrus and Vegetable Growers and Shippers Association (1978-1979) and Board of Directors, United Farmers Cooperative. He was a former Chairman of the Produce Recovery Fund Board and past member of the Texas Department of Agriculture Food and Fiber Council. He is currently a member of the South Texas Onion, Lettuce and Melon Committees and the Texas Valley Citrus Committee. He is a member of and active participant in several professional societies including American Society of Horticultural Science and Entomological Society of America.
This award is presented to Wayne Showers in recognition of his active role in leadership and interest in developing education and research opportunities that have benefited the horticultural sciences and industry of south Texas.